Soil is the source of and sustains all life. We all understand that it provides the vast majority of the food we eat, but few of us fully appreciate the significant role it can play in rebuilding a new world. Our Soils are currently dirt. They are losing microbe life. It is time to change this before it becomes seriously detrimental.
Let's Regenerate
The Soil Campaign
Land degradation is a collective threat for everyone. We have a plan and creation that can reverse the damage and make farmers, gardens, plants abundant, and sustainable .
It is vitally important we make a transition to regenerate our soils which is a primary basis of all life and health. Did you know that without a healthy soil food web, plants can not uptake nutrition? Perhaps it is time to go beyond the "organic" and step into really understanding why microbe rich soils can be a "soilution" to many problems we face together. This is a paradigm shift in of thinking and doing soil work. We have a plan! We need to create a neighborhood of collaboration for this idea to manifest. We need your help to create!
Our Mission
educate and create bio-complete soils and spread this gold for our collective future.
Changing our approach (even the organic approach) and entering a new paradigm shift.
Empowering everyone to thrive, win and benefit.
Creating compost that rejuvenates soils, educating everyone into this knowledge and creating a system that can be duplicated and where everyone thrives.
Connecting microbe and humans and regenerating all across Ecuador.
Our Plan
Create A Compost Center
Create Microbe Rich Soils according to the teaching and science of Dr Elaine Ingham Soil Food Web
Microbe Organic Market
Create a Farmer's Market where the produce of the regenerated lands are offered and shared.
Offer Workshops and Training
Educate land lovers on the science of biologically complete soil. Workshops and Training Center
Laboratory Soil Test Center
Provide Soil testing for locals and Ecuador and use this knowledge as a training platform to transform dirt to soil
Step 1
Create Amazing Compost and spread it everywhere
Step 2
Offer Soil Testing and recommendations
Step 3
Educate, Employ and Empower locally, nationally
Step 4
Consult & Regnerate Lands in collaboration.
Beneficial organisms convert and create life, nutrients, energy, health and bountiful ecosystems. Our mission is create rich compost, to teach and educate, assist, convert and inspire conversion to regenerative cultivation locally and across Ecuador. This creates abundance for everyone and it needs to be a collaborative effort. Our business model is built on Sacred Commerce where Nature is the primary beneficiary.
Restoring and harnessing Microbiome IS the future! Microorganisms hold huge potential because they are integral in the makeup of all plants, animals and humans. And they are the key drivers of biological and environmental processes.
* Establish Microbe Compost Creation and Microscope Laboratory
* Consult, Educate and Empower both locals and all food growers.
* Transform neighborhoods here and in Ecuador into regenerative agriculture
* Protect sacred lands, WATER-SHEDS and depleted lands.
* Grow food that is truly nutrient rich and truly medicine.
* Create a reproducible model of sustainability to share our knowledge far and wide.
* Connect growers all across Ecuador in a online forum that creates communication and collaborate at the grass roots level
We have created a business plan and model that mimics the flow of the soil food web to ensure everyone involved has an opportunity to thrive, succeed and feel empowered. Let's come together heal the living world that sustains us!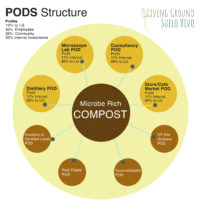 We have a natural way forward for Sustainable Agriculture and Human Health blending science and art. REGENERATIVE Biological ORGANIC stewardship. It's Time! It's Necessary!
We also intend to create a Certified Regenerated Land Club (the purple carrot club) for all farmers and gardeners whose land meets minimum biological tests.
We welcome discussion and dialogue with long term investors and will create an appreciation page for all who donate and invest.
$500
The Friend Donation
Good Guy
Your Gift
One Microbe Microscope Soil Lab Test and unlimited access to our online forum community
$1000
The Team Donation
Soil
Your Gift
Microscope Soil Test, 1 80lb bag of microbe compost and access to our online forum community
$5000
The Dreamer Donation
Regenerate
Your Gift
Microscope Soil Test & Initial Land Consultation with access to our online soil community

Ways To DONATE
Bitcoin,
Ethereum,
Paypal,
Bank Transfer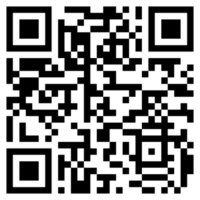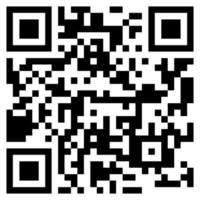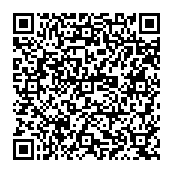 B
Bitcoin Ethereum Paypal
Bank Transfer Bank of Loja (contact us for more details)
Sign up for our Soil-Telling Newsletter
Little Tidbits, sharing our journey in creation and articles of how to save the world with soil. Contributors will automatically be subscribed. We do ask for donations to membership.
"The people who have created this system, and who perpetuate this system, are out of balance. They have made us out of balance. They have come into our minds and they have come into our hearts and they've programmed us. Because we live in this society, and it has put us out of balance. And because we are out of balance we no longer have the power to deal with them…
We are a natural part of the creation, we were put here on the sacred mother Earth to serve a purpose. And somewhere in the history of people, we're forgetting what the purpose is. The purpose is to honor the earth, to protect the earth, to live in balance with the Earth. And we will never free ourselves until we address the issue of how we live in balance with the Earth. Because I don't care who it is, any child who turns on their mother is living in terrible, terrible confusion. The Earth is our mother, we must take care of the Earth."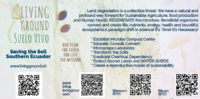 ~John Trudell