we are on our way TO Creating the Microbe & Health Education Center.

E

mp

ower

ing


a

healthier

future

by

reconnect

ing

with

the

Living

Ground

beneath

our

feet

."
$136,889
of
$300,000
raised
what ARE we doing and why?
Imagine a world where we no longer rely on harmful chemicals and synthetic fertilizers. Where we understand the importance of microbes in our gut and in the soil. Where we can come together to learn and grow in a sustainable and community-driven way.
It all begins with a humble microbe, a tiny creature that holds the key to our health and the health of our planet. The Living Ground Project is multi-layered. It starts with mass-producing microbe-rich compost that will revolutionize our health. But that's not all, we will also offer health and microbe tourism, where visitors can learn about the incredible world of microbes and how they impact our bodies and the environment. We cannot do this alone, my friends. We need your support to bring this visionary project to life. Your contribution will go toward building the center, purchasing equipment, and hiring staff to run the operation. And in return, you will be part of a movement that is changing the world for the better.
Join us, my friends, in this noble pursuit. Together, we can create a better future for ourselves and our planet. Let us raise our voices and our funds in support of this worthy cause. For the microbes, for our health, and for our future.
Donor wall – the supporters of change
Hey! We've raised $136,989.00 of the $300,000.00 we are trying to raise for the Microbe & Health Education Center! Many thanks to all those who are helping us change the world. Your contribution helps us create a "soilution".
Susan Coleman (Mary and Moose)
We are so happy to bless you with the donation. (thank you soooooo much! This will finance the green house...a showcase and space for amazing food and education)
Jenn
Happy Birthday T! Keep on (Thank you Jenn, we appreciate you)
Woody JK
Your gift will go a long way...we multiple like the microbes! <3
Jay Kawatski
"Proud of what you guys are doing." Thank you so much...we truly appreciate your support!
Leisha Living Ground Income and Expense Month of August
Income for month 3469.00 Expense for month 3618.75 Leisha contributed $149.75
Jay Kawatski
Jay we are so very grateful for your donation. And, yes, the seeds will be dedicated to you! Much love!
What comes around goes around! 🙂
Living Ground
Expenses $5013.42 Income $3045.00
Living Ground & Leisha Our Progress
This is our Monthly Investment for the Month of June to pay wages, purchase material and invest in the creation of our Mission. This includes all Living Ground income and expenses for the month of June. This … Read more
This is our Monthly Investment for the Month of June to pay wages, purchase material and invest in the creation of our Mission. This includes all Living Ground income and expenses for the month of June. This money is a debit and it is going towards the Living Ground founation creation POD slowly reducing the amount required. Living Ground is open to sharing our income and expenses with anyone.
A deep and heartfelt gratitude to you ALL. In March 2023, we were able to legally acquire the Project Site, effectively saving it from becoming a gas station. This was made possible by 109 contributors who helped with Phase One. Shout out to all who helped us https://fundrazr.com/livingground
Want to help us? Here is our Press Kit
We acquired the Project site and now enter Phase 2.
Our business model mimics the microbes in operation, creating opportunity for generosity and success for all living beings and building resilience through education.
Our Goals
Stewardship with nature (mimic her ways).

Symbiotic Commerce where people are placed before profits and generosity is encouraged.

Create a Microbe & Health Education Center for the benefit of everyone
Grow the world's most amazing food
Improve our health, happiness and connection with Nature
It is vitally important that we make a transition to regenerate our soil, which is a primary basis of all life and health. We have a solution, empowering the individuals to understand that the health of the planet and our species begins with the health of the soil.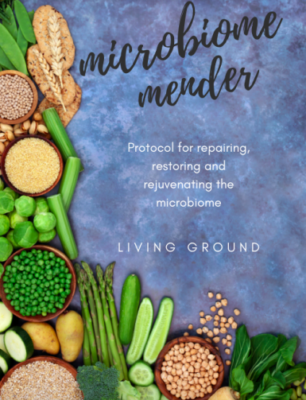 What are the PODS? (english)
What we need and why?
¿Qué son los PODS? (español)
What are we currently doing?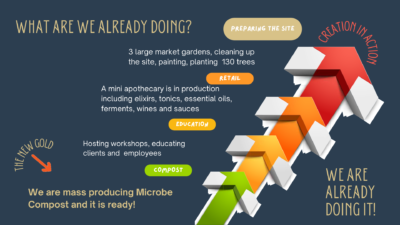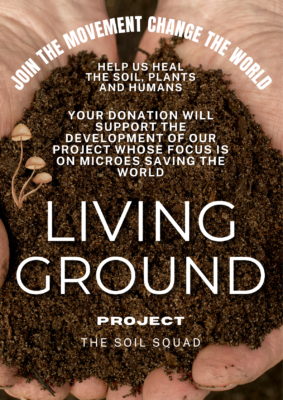 Mission and Vision
Our mission is to be forerunners in Microbe Education offering apprenticeships, education, Microbe/Health & Eco-Tourism, regenerating lands, providing microbe-rich grown food and nourishment. We aim to learn from nature and mimic her ways.
We are, first and foremost, microbe farmers. Creating microbe-rich soil leads to higher crop yields and more resilient and healthier plants. This leads to healthy humans. We empower the little guys (microbes and humans). Our site is for the benefit of all.
Vision
Regenerate land, soil and humans so everyone/thing thrives. The microbes are the foundation that sustains life in all forms. We regenerate, revive, restore the "little good guys". The Project and Project site is an experiential example to educate and inspire the human kind.
Why is this important?

How does this benefit you?
saving THe soil
Reducing soil compaction, errosion and chemical inputs, herbicides, pesticides. Microbes protect the soil. We are offering microbe rich compost, consulantacy, workshops, and growing nutritious food and medicine that benefits our local community and out to the international world
The best food ever!
Growing and alchemizing the world's best food, fully nutritious and bursting with life. Alchemizing to provide a weekly cooperative basket program, a natural health whole food store and a creative microbe cafe.
Education & Tourism
Visit us as a tourist or apprentice to discover and learn. Our goals is you return to your home-base with tools for success.
Come on a health retreat working with the team healers to return empowered to control your own state of health.
whether you are local or international, near or far, in this project everyone wins!
We share it all – no copyright, let's change the world together
Contact Us for more information or enquires (we are happy to give free tours and share our business plan with anyone)
#Livinggroundchangetheworld