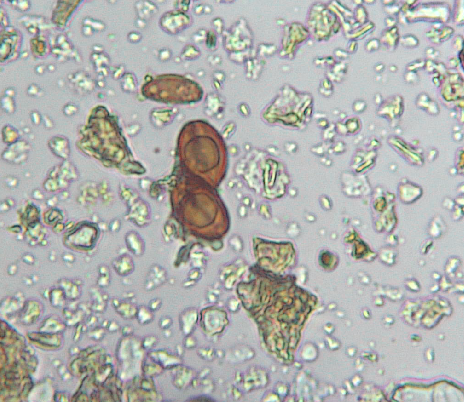 The success of your garden begins with one fundamental factor – its soil and the microbes. This ensures a flourishing garden. Living Soil Yum is our latest, tested all natural product to help our soils, plants and humans. It is a mixture of our Microbe Grown Compost Humic and Fulvic Acid, Azolla, Comfrey, Yarrow, and Nettle. Next to our Microbe Compost, this is your garden's best companion. It will elevate soil structure, nutrient accessibility, and plant resilience, all contributing to vigorous growth and top-tier, nutrient dense produce.
We are soil geeks and we love the microbes. During our training with Dr Elaine ingham, she challenged us, the students, to create special recipes to increase biology in our BioComplete (TM) compost piles. All students embark upon experiments studying and counting the microbes with our microscope. Our goal is to increase the good guy biology.
Nic and I also are getting to know our Ecuadorian soils, the challenges we all face with soil restoration and we are finding solutions. From our land, we hand picked precious plants high in mineral and nutrient contet. We took our best and most diverse Microbe Compost and we made a blend that is amazing.
We checked it in the microscope and we were pleasantly surprised. PUT CURSOR ON PHOTO FOR EXPLAINATION!
This amazing blend is a supercharge for your garden's vitality,! The ingredients are Microbe Grown Compost Humic and Fulvic Acid, Azolla, Comfrey, Yarrow, and Nettle. This is a haven for beneficial microbes . When you add water, the spores and cysts will wake up! The microbes, btw, are the ones that break down organic matter, releasing nutrients and safeguarding plants from pests and diseases. Let's look at the benefits.
Humic and Fulvic Acid
These acids are very complext compounds that science has not yet figured out. These intricate organic acids form over millions of years through the decomposition of plants and animals. While their precise structure remains a mystery, their crucial role in soil health and plant growth is undeniable. It is also beneficial for humans too. It is interesting to note that fulvic and humic acid supplements are not regulated by the FDA, yet! I suppose they cannot regulate something they can not understand. That is good news for us! . I drink our compost extracts and teas for these acids. Yes, I do! I have a microscope to ensure only the good guys are home!
What does these complex molecules do for soils, plants and humans?
For the soil and plants:
Helps to transport nutrients into plant cells
Improves the soil's structure and drainage
Chelates minerals, making them more available to plants
Increases the water-holding capacity of the soil
Helps to detoxify plants from heavy metals and other pollutants
Helps to suppress soil-borne diseases
For Humans:
Supports immune system function
Promotes detoxification of heavy metals and other toxins
Reduces inflammation
Enhances nutrient absorption
Boosts energy and athletic performance
Supports skin health
Supports wound healing
Supports gut health
Azolla:
This nitrogen-fixing fern enriches the soil with crucial nitrogen, supporting plant growth and optimizing water retention. Azolla is a versatile and beneficial soil amendment that can improve soil fertility, crop yields, and pest resistance. It is a rich source of nitrogen, organic matter, and it has been shown to suppress some soil-borne pests and diseases. Azolla is a fern that can also help to improve water quality by providing oxygen to aquatic ecosystems.
Comfrey:
We comfrey both for its' benefits for humans (bone knitting) and as a chop and drop in our gardens and pasture. Comfrey is a nutrient-rich herb, delivering essential elements such as nitrogen, potassium and calcium.
Yarrow:
Known for its soil structure-enhancing capabilities and deep-reaching roots that break up compacted soil. It also provides valuable nutrients like nitrogen, potassium, and calcium. Yarrow is not native to Ecuador but our stock in the garden is growing happily.
Nettle:
Ah, the beautifil and yet dangerous nettle! She is a favourite on my list of nutritive herbs. She adds iron, magnesium, potassium, and silica, reinforcing plant cell walls.
Such an amazing blend! We are excited!
The Benefits of Our Soil Amendment
Improved Soil Structure
Our soil amendment enriches the soil's structure by introducing organic matter and beneficial microbes, resulting in better drainage, aeration, and water retention.
Enhanced Nutrient Accessibility
It elevates nutrient availability by unlocking nutrients from organic matter and enhancing the soil's capacity to hold them. The outcome? Quicker growth, increased yields, and superior-quality produce.
Resistance to Pests and Diseases
Strengthening plants, making them more resilient against pests and diseases, ultimately saving you time and money on treatments.
Promoting Plant Growth and Development
By supplying the essential nutrients and beneficial microbes, it paves the way for robust plant growth.
Applying Our Soil Amendment
To reap the benefits, dissolve 1 tbsp in litre of pure (non-chlorinated) water. This can then be dilluted once again or give each plant a little drink. Mix well and apply immediately to your plants and garden. You can also ncorporate it into your compost pile to expedite and encrish the composting process. For optimal results, use it every few weeks throughout the growing season. Even better, purchase our Aged Organic Matter (mixto) and blend!
Revitalize Your Garden!
Boost your garden's well-being and witness it thrive like never before.