Recently, I embarked on a journey to the Ecuadorian seaside. The purpose was to write. Living Ground is creating our education platform to share our knowledge and self-reliance, health and microbes. We are creating courses on Microbe Compost, Growing Food and Medicine, Layperson's Guide to Live Blood Analysis, Alternative Protocols, Kitchen Alchemy, and a comprehensive herbal guide.
I wrote! I wrote a lot. Amid this ocean waves sound track, a newfound inspiration surged within me, prompting me to embark on a profound new idea that is perhaps uncharted in thought and creation (to the best of my knowledge)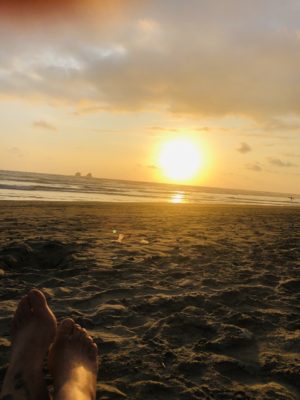 I found myself meticulously crafting the herbal course and it underwent a transformative evolution. I've selected 43 herbs, each possessing universal adaptability (can grow anywhere) and have detailed their potent medicinal properties and cultivation methods. I created characters for the herbs giving them a creation story with a special microbe..the symbiotic relationship.
Yet, the journey didn't end there; it evolved into a deeper inquiry into the symbiotic relationship between these plants and the microbial world. Those who know me know I am enthralled by the intricate dance between flora and microbes, I also found myself exploring and writing about the delicate equilibrium that shapes our ecosystem and human microbiome. It was exhilarating to say the least and I wrote over 250 pages during my coastal sojourn. I beleive it is maybe 1/2 complete.
The comprehensive manual for the layperson's Live Blood Analysis course nears completion, awaiting only the addition of visual aids to enhance its depth. The magnum opus of Microbe Compost, an exploration into the art and science of enriching soil vitality, is in the final stages of formatting. Equally enthralling is sharing my collection of natural health protocols and terrain theory insights, including a treasury of herbal recipes that bridge the realms of health and culinary alchemy.
As these projectss are slowly reaching their fruition. It is a labour of love!
Our aspiration is to extend this wealth of knowledge to others. So, Online platforms will soon offer the courses.
Yet, as much as we embrace the digital age, we hold steadfast to the belief that the most profound learning occurs through tangible experiences. With open arms, we will be able to invite learners, students and seekers to our Project Site, where hands-on engagement breathes life into the written word. It is slowly and surely coming together. I am grateful for Mama Sea and the Soil Squad who held down the fort amazingly. It is a blessing to be working with such generous and kind people!
Our ultimate mission is to send ripples of transformation far and wide, just like a drop in the boundless ocean, as we share the fruits of our labor with a world thirsting for knowledge and healing.