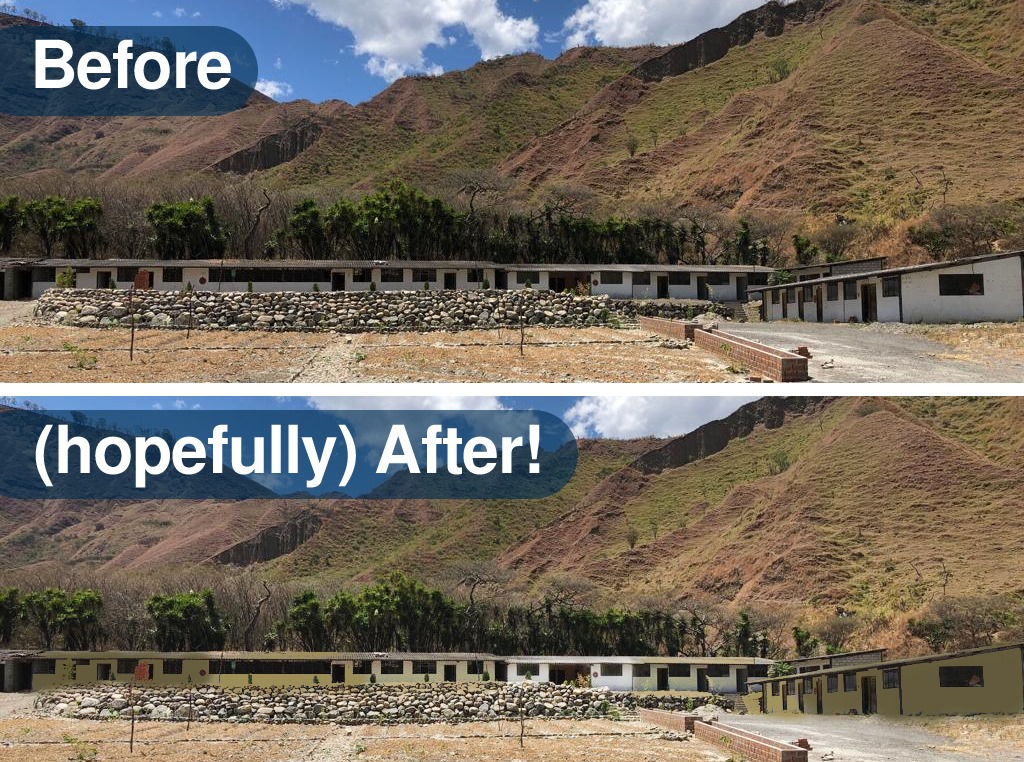 September 1, 2023, marks the one year anniversary for tThe Living Ground Project. One year ago today, we took over our first microbe compost site. What a year it has been!
A year ago, were expecting the gifts….a Mighty Mike Compost Maker and Slow Speed Tracker …to arrive. It was an amazing and exciting donation to Living Ground from a USA foundation that beleived in our work. We acquired a site and began preparing it for for mass producing Microbes.
The equipment never arrived. The COVID restrictions and transportation mess made it impossible. Disappointing! Subsequently, these machines were donated to Dr Elaine's (our teacher) in Oregon. Needless to say, we had no choice than to learn how to mass produce microbes by hand. And, we perfected the process. I beleive we are the first SFW students to successfully mass produce Microbe Compost.
Then we considered another local site for operations that was around the corner from our operations. While it was amazing, it was too expensive! It was an old delapitated building that was home (dormintory) to highway workers. The grounds were contaminated. "Imposssible", we thought! And, perhaps too big for us? March of 2023, against all odds and much risk taking, we acquired the site literally saving the land from a gas company. Now what! The dream grew tremendously and the work too!
A lot has happened in this last year….really it is a full books worth of changes and experiences: We've gained, lost, challenged, overcome and tried to do our best.
Highlights:
We've had successes (like acquiring the Project Site) and disappointments (facing the challenges of human transformations and staying true to our values and morals).
We've charged ahead with gusto making things happen despite having little means. We acquired the Project Site.
We've opened our Microbe/Health Air bnb. This is the beginning of the tourism aspect of the Project.
We've showcase our value added microbe grown products in our community.
We are creating the landscape foundations at the Project Site creating the 2nd market garden and Secret garden.
We are consulting and transforming lands.
We are creating our educational platforms (online and onsite)
We are moving forward! Our fireside chat video (here) explains how we are "doing" all we said we would do!
Yes, as you can imagine, there is a lot going on is the background. It is organized chaos!
As Mama Microbe, I am proud of the team and the supporters (volunteers) who are helping make this happen. It isn't easy but each one of us is growing, learning and discovering.
The Project (whether applied to the physcial or the personal) is rooted in the belief that even the tiniest of beings can create ripples of change. This statement is one I repeat over and over as a mantra to remind myself that this initiative stands as a testament to the power of human determination, creativity, and purpose. What can we accomplish when we come together? Our project is also rooted in the concept of symbiosis (which embraces tension) and we practice respect and honor for the earth and each other. We often we find ourselves giving more than we recieve. In today's world of consciousness, this is going against the grain (or the swing of self-obsession). It is important!
Personally, I see this project as a canvas of hope, collaboration, and transformation. It's not just a project; it's an embodiment of the "little good guy" humans working hand in hand with the "little good guys" of nature – the microbes that lay the foundation for all life. Although the trend is moving towards understanding microbes (in the human and soil), we have in the palm of our hands a unique mission: to nurture the Earth, empower communities, and foster a new understanding of life itself and mimic the microbes symbiosis. It is beautiful!
Recently, I had the privilege of witnessing another project, quite similar in purpose. I was inspired and amazed at this Project and intrigue with how we could cooperate. We are on a similar path with one key difference – the availability of financial resources. Honestly, it would be easy to feel deflated or frustrated as the Living Ground Project struggles to bootstrap its way forward, working tirelessly with limited financial means. Yet, within this challenge lies a profound opportunity. I use my mantra to give me hope!
I realize that there is a book forming from the stories and experiences we are all having at Living Ground. The ups and downs, the challenges and discernments are creating a symbiotic tale of what can happen is the little guys come together. I've found myself being too trusting in many situations so that the "team" intervenes to put me back in line. I've been blamed and accused of things that I don't own. It is quite a story and one that will be shared one day!
And, the Living Ground Project isn't just about the end result; it's about the journey. It's about proving that dedication, passion, and resilience can transcend personal and economic barriers. It's a bold assertion that the "little guys" – whether they're the microbes in the soil or the humans with dreams – can bring about real change, regardless of the odds stacked against them.
Yes, our financial resources are scarce. But we are doing it! The Living Ground Project is rich in heart, spirit, and ingenuity. The Soil Squad team pours their soul into each endeavor, raising the project brick by brick, hand by hand, project by project. Every step is a triumph over adversity, an embodiment of the spirit that refuses to be confined by limitations.
Creativity takes center stage as the project navigates the challenge of acquiring materials while ensuring fair compensation (now and in the future). It's a dance of innovation and determination, a story of crafting something magical.
And, my intention is real! My aim is to raise this Project until the leaders are confident and secure. When this time comes, I will gift it into the hands of good people to continue with the legacy and mission. I have even thought about moving back to a new Magical Forest. For those who don't know me, the Magical Forest was my created home when I arrived in Ecuador where I lived without walls, in a tree house and as self sufficent as I could. I will return to this space and create my nature living once again. Perhaps I become the crazy lady in the bush who can mentor the Team from afar?
So I am sharing a little of the "Behind the Scenes". We are doing the work with purpose. We are spreading the microbes. It is happening. And as we charge ahead with our mission, the microbes silently work their magic in the soil. Our greatest ally is these "good little guys". Together, we weave a narrative of growth, connection, and transformation.
We don't have much, but the Living Ground Project isn't just about resources; it's about redefining success. It's about proving that the impact of an initiative isn't solely measured in economics. It's about leaving an indelible mark on hearts and landscapes, about fostering a community that understands the language of the Earth and the unity of life.
This is about realizing the truth about who we are! We are more than just humans. We are mostly microbes. Trillions of these microscopic allies reside within our very beings, shaping our existence. Just as every note in a symphony contributes to the grand melody, every microbe within us harmonizes with the greater whole. These tiny creatures are the unseen architects of vitality, creating ecosystems of unparalleled complexity. Their currencies are nutrients, energy flows, and the exchange of information that shapes the very fabric of life.
In a world often driven by economic systems, the microcosm within us and around us serves as a living testament to a different way of thriving. It's a profound reminder that the sustenance of life need not be tethered to monetary transactions. Rather, it relies on the elegant dance of ecosystems, the generosity of nature, and the sacred balance that honors the interconnectedness of all beings.
So, as the Living Ground Project marches forward, remember that every step is a triumph over adversity. Every brick laid, every hand extended, every project undertaken is a testament to the unwavering spirit that knows no boundaries. It's a beacon of hope for all "little good guys," showing that with heart, determination, and a touch of magic, they can transform the world.
The Living Ground Project is not just a project – it's a legacy in the making, a living testament to the potential of the "little guys" who dare to dream big.
To Nic, Tamar, Ian and Jimini, I love you dearly! You are all such adorable misfits. I ask for your forgiveness in where I fail and your patience as I, too, grow and learn. One year….one year…and so much has happened. I adore you!
Now for a photo story of the past year1
I commit and dedicate myself to this work…. it is needed and important for you and those that come behind us! This is for Kaya!